Specs
Oversized Women's Sunglasses
Square-Frame, Large Frame Gradient
UV 400 PROTECTION
The Inspiration
Daniel Ricciardo, born 1 July 1989 in Perth, Western Australia, is an Australian Formula One driver who currently drives for Renault in 2019, following a five year stint at Red Bull and having driven for HRT in the second half of 2011, and Toro Rosso in 2012 and 2013. 

At the 2014 Canadian Grand Prix, Ricciardo claimed his first win after climbing from sixth on the grid to take the lead from Nico Rosberg a few laps from the end. He won again at 2014 Hungarian Grand Prix and the 2014 Belgian Grand Prix.

Ricciardo was seen as the Messiah, the saviour of the sport and breath of fresh air. The world was his oyster, he was the hottest property on the grid and Red Bull knew that their gamble would most certainly pay off.
Ricciardo raced for Red Bull from 2014 to 2018 and had a race-winning car in all, except for one season, scoring seven wins overall and placing third in the standings on two occasions.
Riccardo currently sits as the 3rd highest paid F1 driver in the world.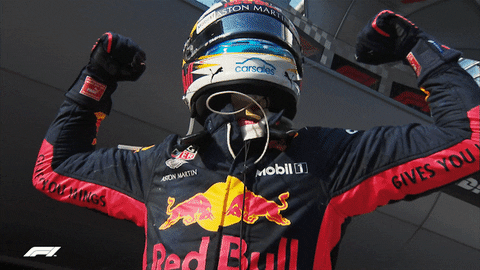 The Scene
If we can take one thing from Daniel, its that he flies frighteningly quickly around tracks, behind the wheels of some of the most powerful and dazzling vehicles in the world.
This has granted him some air time on some the highest stages in the formula 1 racing world and beyond.
Fast pace, yes... risky, yes... a penchant for clashing with other high fliers during races... double yes. His fanciful driving dances along the lines of hair splitting exhilaration.
When you are soaring above the competition, haters are always going to hate. So when you do decide to take flight with these large-frame gradient pilot shades, make sure you are flying fancy.
You can keep it fancy, right?
People who bought this product, also bought